When shopping for a new car, we're able choose an entire vehicle; while some drivers may have specific engine component opinions, we shop for the entire system of the car.
Which is why every car shopping website guides us to look at the complete package—we don't even have the option of constructing a Ford engine, with a Subaru driver assist system, and maybe a BMW body—so why would we shop that way?
When it comes to software, many buyers are faced with the same situation. There can be several components and products that feed into one comprehensive solution. Separately, the products can help your business accomplish specific tasks, but together these products form a solution that truly propels your business forward.
For software buyers, the challenge comes when it's time to evaluate and compare these solutions. Unlike car shoppers, these buyers are faced with limited resources that only let them make their choices component-by-component, even though they eventually need to land on one overall solution.
Take Cloud Computing Infrastructure for example: While one software company may excel in its cloud database offerings and another in its container management solutions, users aren't able to look at the full picture to make the best decision for their business. As complex as it is, it's also an important decision to get right the first time; once an organization has implemented a given cloud provider it can be costly and time-consuming to change.
To help buyers answer these type of questions and make the best decision for their business, G2 Crowd has developed a new Grid® report that evaluates a company's offerings across product lines. G2 Crowd's Cloud Computing Infrastructure Grid® is the first holistic, user-review-driven comparison of Cloud Computing Infrastructure providers' complete offerings.
As the first report of its kind, this Grid® aggregates the performance of separate but interrelated products to help buyers choose the right Cloud Computing Infrastructure provider for their needs. It rolls up scores from key Cloud Computing Infrastructure categories such as Infrastructure as a Service (IaaS), Cloud Platform as a Service (PaaS), Container Management, and others. Buyers will be able to supplement with category-specific research as needed, but we're excited to be able to provide the first overall view of the cloud computing space.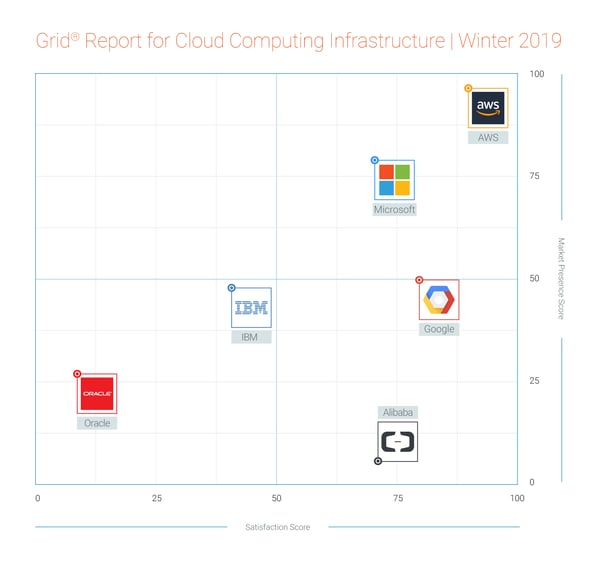 In addition to an overall Grid® view, G2 users can also create comparisons between cloud offerings to consider key features and read detailed reviews. This is one more way users are able to evaluate the overall offering, to see the big picture before digging into the details that may be pertinent to their business.
As we continue to help B2B buyers leverage technology to reach their potential, we look forward to creating more of these comprehensive Grids® and bring transparency to other tightly connected groups of software tools. Finally, a way to see the whole picture—not just the sum of its parts!
Check out the Cloud Computing Infrastructure Report on G2 Crowd.