Prospect smarter with the powerful combination of G2 Buyer Intent Data and LinkedIn Sales Navigator
It's never been more important for sales teams to find the right prospects at the right time. In today's digital world, buyers start the decision-making process with self education rather than engaging a sales professional, making it harder for sales teams to identify which accounts are ready to buy.
Today we're excited to introduce our G2 Buyer Intent integration with LinkedIn Sales Navigator, enabling sales professionals to pair G2's intent signals with recommended leads from LinkedIn Sales Navigator - allowing sales teams to engage with the right accounts at the right time.
Close Deals Faster
With G2 Buyer Intent Notifications, sales teams receive a customized alert when prospective companies are shopping on their G2 profile, G2 category, and comparison or alternative pages.
Through the integration with LinkedIn Sales Navigator, it's now easier for sales teams to start engaging these companies. Once a sales representative is notified that a company is showing purchase intent, they are able to view and save recommended contacts at that company — all within G2 Buyer Intent notifications. Recommended Leads are dynamically surfaced based on the Ideal Customer Profile settings identified in your LinkedIn Sales Navigator instance.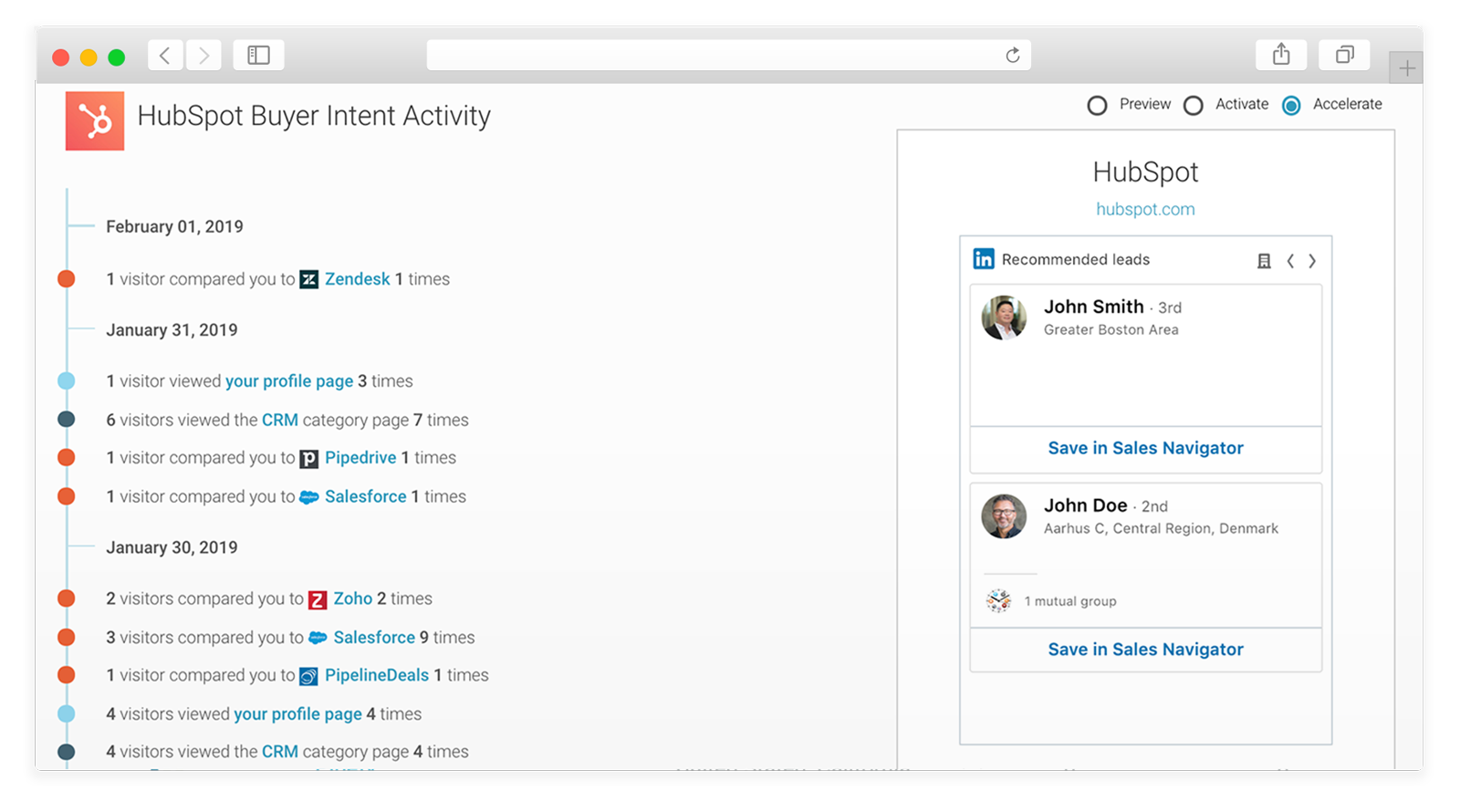 Already a G2 and LinkedIn Sales Navigator Customer?
You're all set! The integration is automatically turned on for all G2 Customers with access to G2 Buyer Intent and a LinkedIn Sales Navigator Team or Enterprise license. After logging into both platforms, Recommended Leads will begin to surface in your G2 Buyer Intent interface. If you aren't the admin for your G2 profile, but you receive Buyer Intent digest emails, you are also able to take advantage of the integration.
Not a customer of LinkedIn Sales Navigator? You can sign up for a free trial here.
Not a customer of G2? Chat with us to learn about the benefits of an upgraded profile.
*G2 takes privacy very seriously, so we will never share the name of the potential buyer, but we can let you know the name of the organization to help improve your prospecting efforts.