Until now, there's never truly been a single, recognized location for B2B Service providers of any kind to collect reviews, connect to potential clients, and tap into the ecosystems of their valued technology partners.
Although other sites have tried to develop this, for the most part they have focused on a specific service type, technology partner, or location. We at G2, as the world's largest B2B technology marketplace, believe we can help change that -- and bring more value to Service providers than ever before.
That's why in addition to the 350+ Services categories and 28k+ profiles our 3M+ active buyers use and trust, we're excited to announce that G2 is launching our first Services reports. That's right, Service providers! Now, you too can access and leverage G2 reports proven to build trust and drive sales -- tailor-made for your B2B Services category!
Behind the scenes, with these reports comes a whole new algorithm that's just for Services. After all, the things that matter to software buyers aren't always the same as what matters to businesses looking for their next service partner. The Services algorithm is all about capturing client satisfaction to help buyers hone in on how satisfied your clients were with their experience, specifics on what the process was like, as well as the results they saw working with you. With this algorithm update, G2 is also rolling out a new layout on Services categories pages.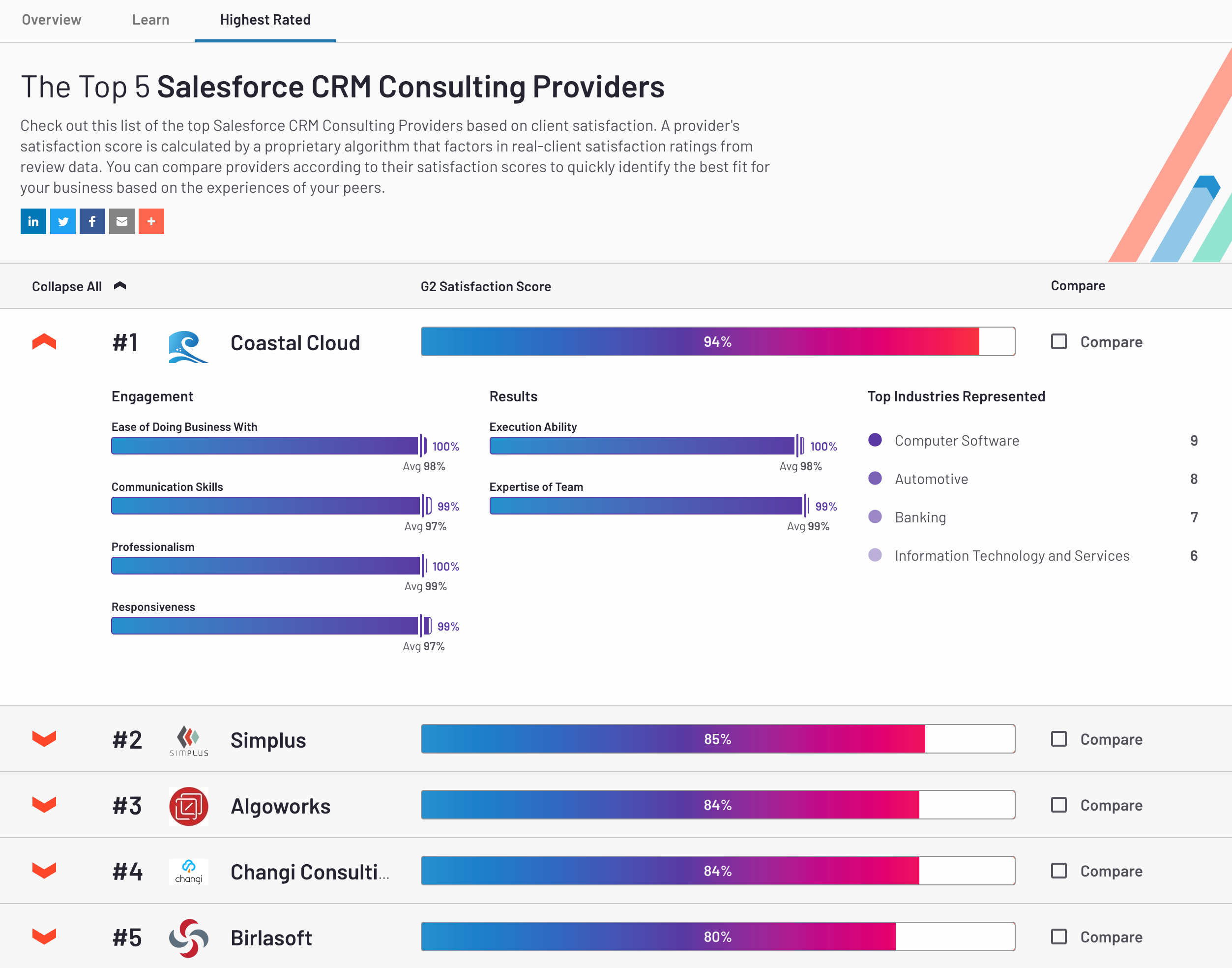 Just like with our software Grids that we know you love, we can't quite tell you the exact recipe for the secret sauce. However, you can read more about what's included in the Services algorithm on our Research Scoring Methodology page.
There's huge potential here for the packaged insights included in G2 Services Reports to power your sales, marketing, and customer success efforts. Similar to the software providers who use G2, we encourage you to leverage this content to guide sales and renewal conversations, service enhancements, and marketing outreach programs. We've seen it work time and time again for technology brands here at G2, and we can't wait to see this content transform your businesses as well!
This launch is especially timely as the Summer 2019 reports are right around the corner. As a reminder: The last day to get reviews in for this round of reports is May 29th, 2019. If you want to be included, start getting reviews -- fast! If you're not sure how to go about doing that, reach out to us here to set up time to chat through review collection best practices.
But we're not stopping here! This is only the tip of the iceberg for all things Services at G2. In the coming weeks and months, be on the lookout for more updates from the Services team at G2.
Welcome to the Summer of Services!