We are excited to launch our new product marketing blog, and we hope you like it!
We are working hard behind the scenes to continually evolve the products on offer at G2 Crowd. We've never had a place for you to learn about those updates, but now we're changing all that. Starting today we will be posting updates here, walking you through the big (and the not so big) changes we've made and the things we're testing out. We're doing this so you can get the most out of your G2 Crowd profiles, hear about updates first, and best reach prospects where they're finding you.
This posts updates are:
If you'd like to learn more about any of these features, let me know by clicking on the chat bubble in the bottom right hand corner. I'm happy to help. (And yes, you'll actually be talking with me, Gina!)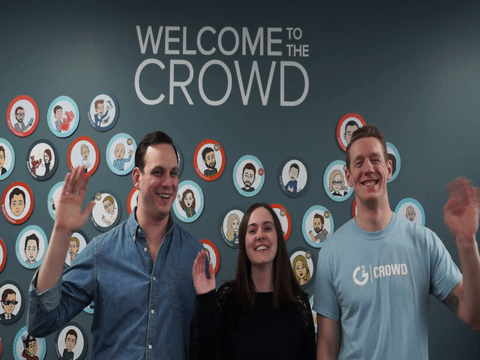 Buyer Intent API Update
Ever wanted to know what your prospects were looking at before you talked to them? G2 Crowd's Buyer Intent data API helps you to understand what companies are doing research on you and your competitors in real time. This allows you to be able to reach out to prospects earlier with relevant information (based on what the prospect was looking at), and to see if any current customers are looking at competitors and may be about to churn.
What's the update? There is a new "Download CSV" button (found under the "Recent Visit Events" tab in your admin) that will allow you to share a small sample of data to stakeholders who don't have access to your admin portal.
Who has access to this? Premium subscribers who have licensed the Buyer Intent API. (If that's not you, but you want it to be, reach out to your account manager and they'll be happy to walk you through upgrading!)

2. New Login Process for Reviewers
You asked (A LOT), we answered! There is a new option for reviewers to log in with other than LinkedIn! Reviewers can now log in using a business email and they won't need to enter a password to access their account.
When they log in, they will receive a verification link to their email, making the process as quick and painless as possible.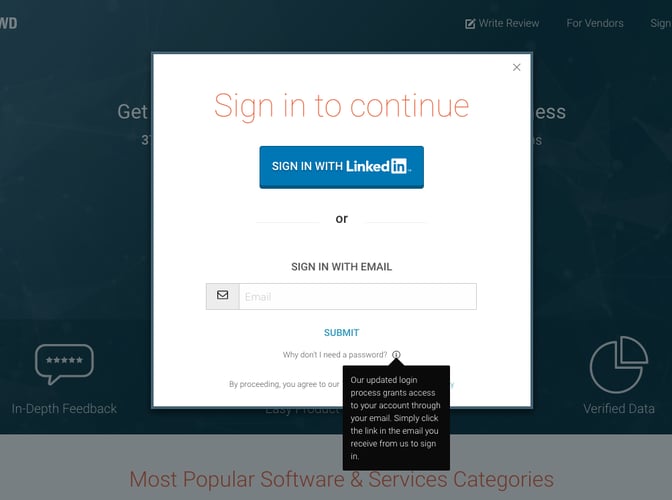 3. New "Easiest to Use" Category Content
Over the last 5 years we've gathered a lot of reviews. How many? More than 375,000. That's over 10 million data points!
To continue our mission to make B2B software buying easier, we've started creating pages that focus on a specific factor of the software buying process; in this case we're focusing on how easy a product is to use.
How are the products on the page listed? The new "Easiest to Use" page helps buyers by ranking products based on the product's Usability Score. The Usability Score takes into account:
Customer satisfaction with how easy the product is to use.
Customer satisfaction with how easy the product is to administer.
Customer responses to how well the product meets requirements.
User adoption ratings at each reviewing company
Number of reviews received.
Where can I find this page? You can find it on the category pages that you're already familiar with. It's a great way to show your customers just how easy your product is to use...and if your competitors aren't on the list, how hard their product must be to use.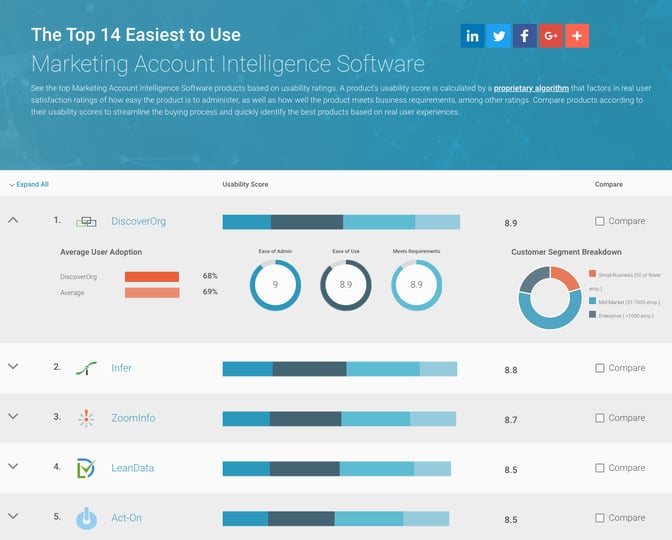 4. Profile Lead Button Changes
Your G2 Crowd profile shows prospects how awesome your product is. While they're doing their research and learning more about how your tool can help them, we want to make sure they can get in contact with you. We do that by providing different places on the profile where they can click to submit their information.
Why did we change our lead buttons? There were too many choices! We looked at our engagement metrics and they showed that having multiple lead buttons underneath the product description led to fewer conversions.
So what does it look like now? Testing showed that one, single orange button works best. If you have a Free Trial set up, the orange lead button will be your Free Trial Button and the rest of the lead buttons will work exactly the same as they did before. If you're not using the Free Trial Button, the orange button will say, 'Request a Demo.'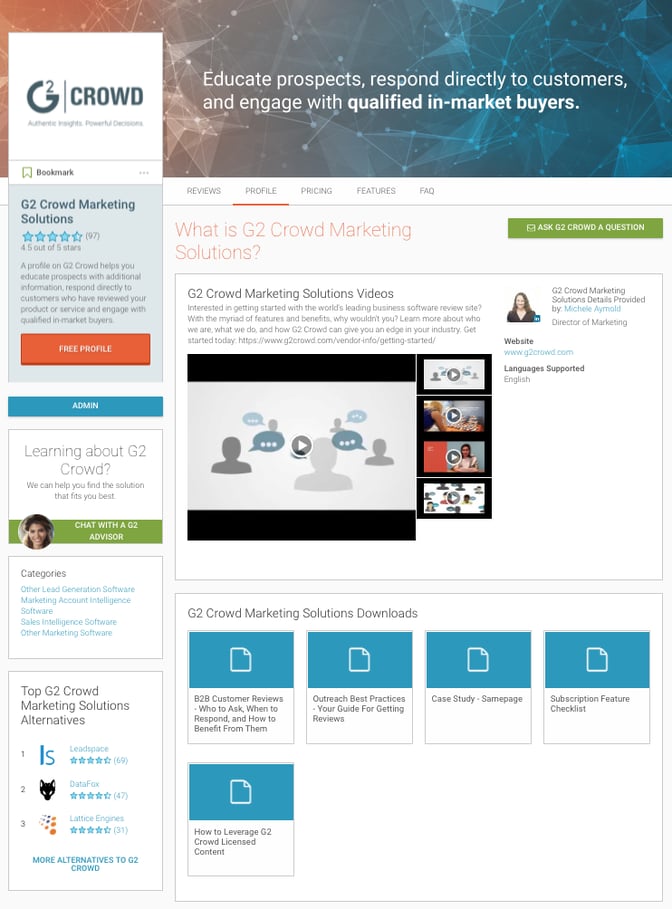 We're also running some tests!
1. Video Reviews
One of our top requests for a new product is video reviews. Wherever you go, people are staring at their phones, watching videos (with or without sound, so caption your videos, people!), so video content is in high demand.
We love video, too, and we've started taking steps to offer this feature. We're currently reaching out to select users to participate in interview-based reviews.
How will it work? Video reviews will provide a short overview of product uses and business use cases, likes, dislikes, and advice for prospective buyers.
Will someone still be looking at the reviews? Like written reviews, we will moderate and approve or reject videos before they go live. Once approved, the videos will live on the reviewed product's profile.
Will video reviews count toward my G2 Score? Video reviews will not affect G2 Crowd Scoring for reports.
Our goal with this pilot is to seek new ways to engage buyers and determine if video reviews increase the amount of time spent on product pages. We'll also gather feedback on the process to learn the best way to potentially roll out this feature at a large scale.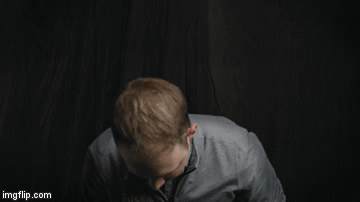 Our test has begun and will run until April 1, 2018. If you'd like to join our beta group to test new features like this, click here to apply.
Layout and Design Changes: Alternatives & Competitors Pages
Potential software buyers are coming to the site every day and checking out you and your competitors. We know that it can be scary to think of potential customers seeing other companies that aren't you, but it actually means they'll be making a more informed decision.
As with the lead button changes, our goal in changing the look and feel of our Alternatives and Competitors pages is to connect you with more prospective buyers that are looking for a tool like yours.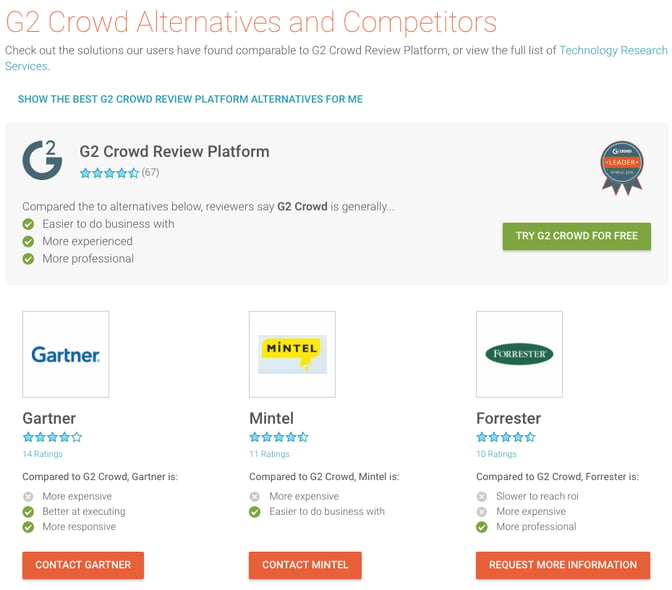 The new look is more streamlined and offers more information at a glance.
Take advantage of this page by sending a link to your prospects and showing them how you stack up against your competitors. This page can also give you the inside scoop on why companies may be switching to or from your product or service to another, helping you to improve your offering!
3. New "Companies" Tab on Product Profiles
When buyers are looking for a new product or service, they want to know how the product or service they're looking at works for companies like them. This new tab on product profiles shows companies that use your product/service.
Why am I not seeing this on my profile? A company will show up on the list for your product/service profile if at least 3 users from the company have that product/service in their stack (list of products they use), and the tab will show up when there are at least 5 companies that qualify.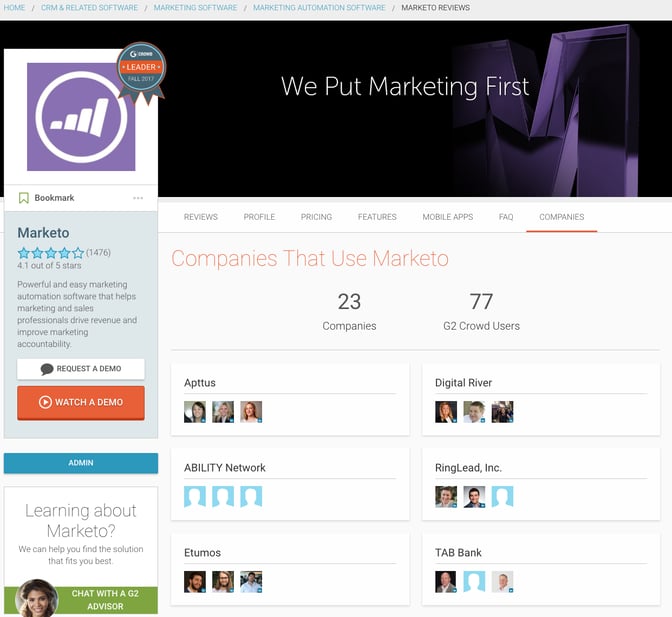 Two last things before you leave...
Quarterly Reports
Over the last few months, we notified you that our report calendar was shifting to a quarterly schedule. As a reminder, this will allow us to produce more and more regular reports keeping software buyers as up to date as possible.
The Spring 2018 review deadline has now passed, those reports will be released on March 31, 2018.
Missed the Spring deadline? Don't fret! The next deadline for reviews to be included in our Summer reports is May, 30, 2018. Learn more about report deadlines here.
We're Starting a Beta Group!
Want to be the first to test new features? Want to give us direct feedback? Want to influence the features we release?
As a member of the group, you will be invited to participate in surveys, interviews, and pilot programs as we come up with new ideas we want to try.
With your help, we believe we'll be able to better fulfill our mission of making B2B buying as easy as consumer purchases.