We made it, people! Winter has come and gone and Game of Thrones is officially a wrap.
G2 has been hard at work launching new capabilities to help our customers. With acquisitions like G2 Track and Advocately, and a variety of new integrations and tools, we're sure there's something below that can help take your business to the next level.
New Dashboard for Vendor Admins
In one of the most exciting new developments I've seen in my time at G2, users just like you can now log in to your Vendor Admin Dashboard for a real-time summary of your profile's reviews, traffic, and buyer intent. This is a total game-changer for customers looking to get the most value (and data) out of their investment in G2.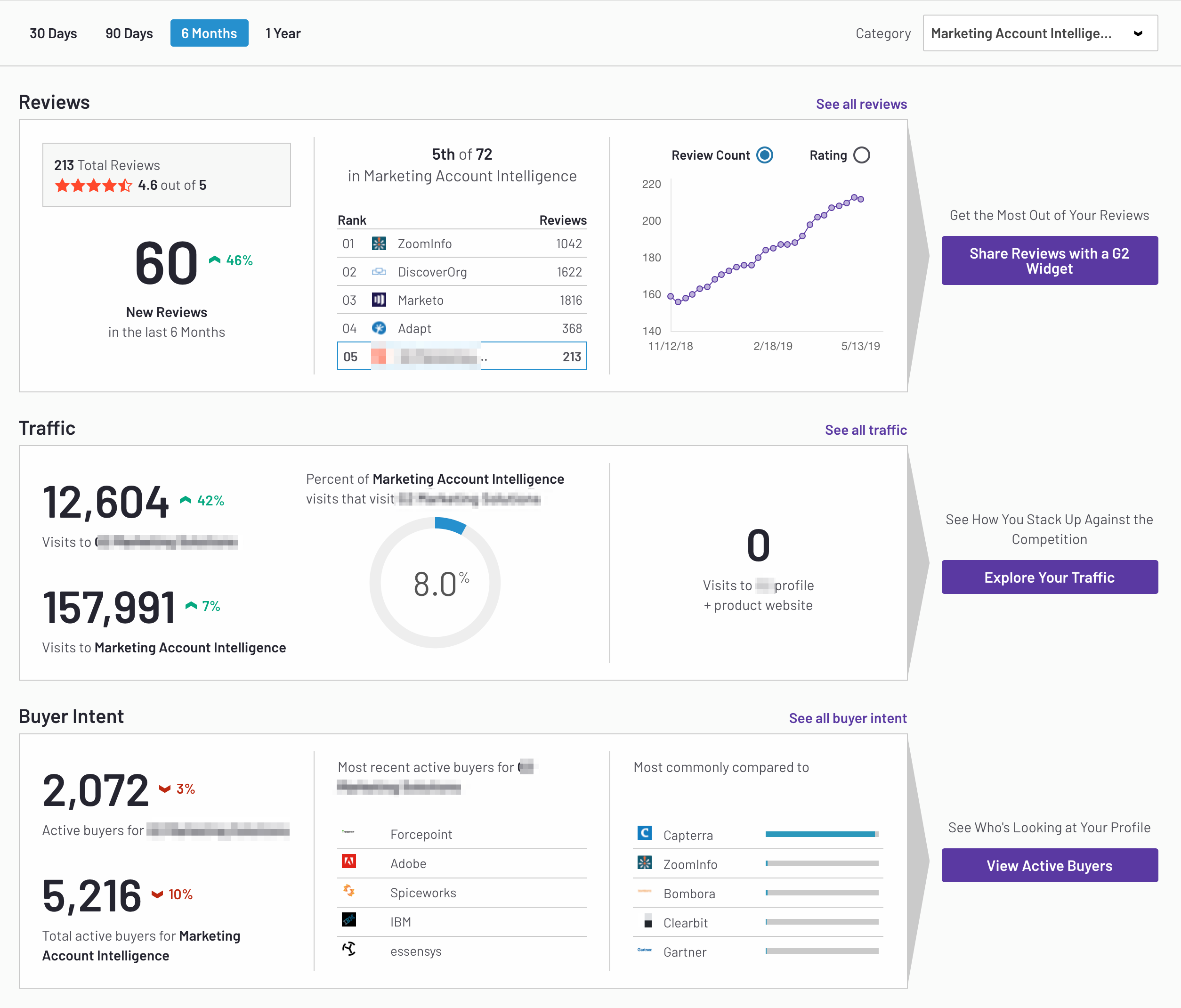 In addition to all of the amazing insights you can see quickly at-a-glance, we also give you actionable steps on what to do next. Profile traffic a little low? See what sections of your profile could use a little love. Have a bunch of reviews, but haven't done much with them yet? Share your reviews using one of our widgets. This new dashboard allows you to easily track how you're doing against your competitors so you can stay a step ahead, always.
*NEW* Services Algorithm and Reports
As you may have seen here, we've updated our algorithm for B2B services! Why is that exciting and important? Because when it comes to businesses looking for a service provider, Market Presence isn't high on the list. The most important measure is just how satisfied previous customers were with the service they received.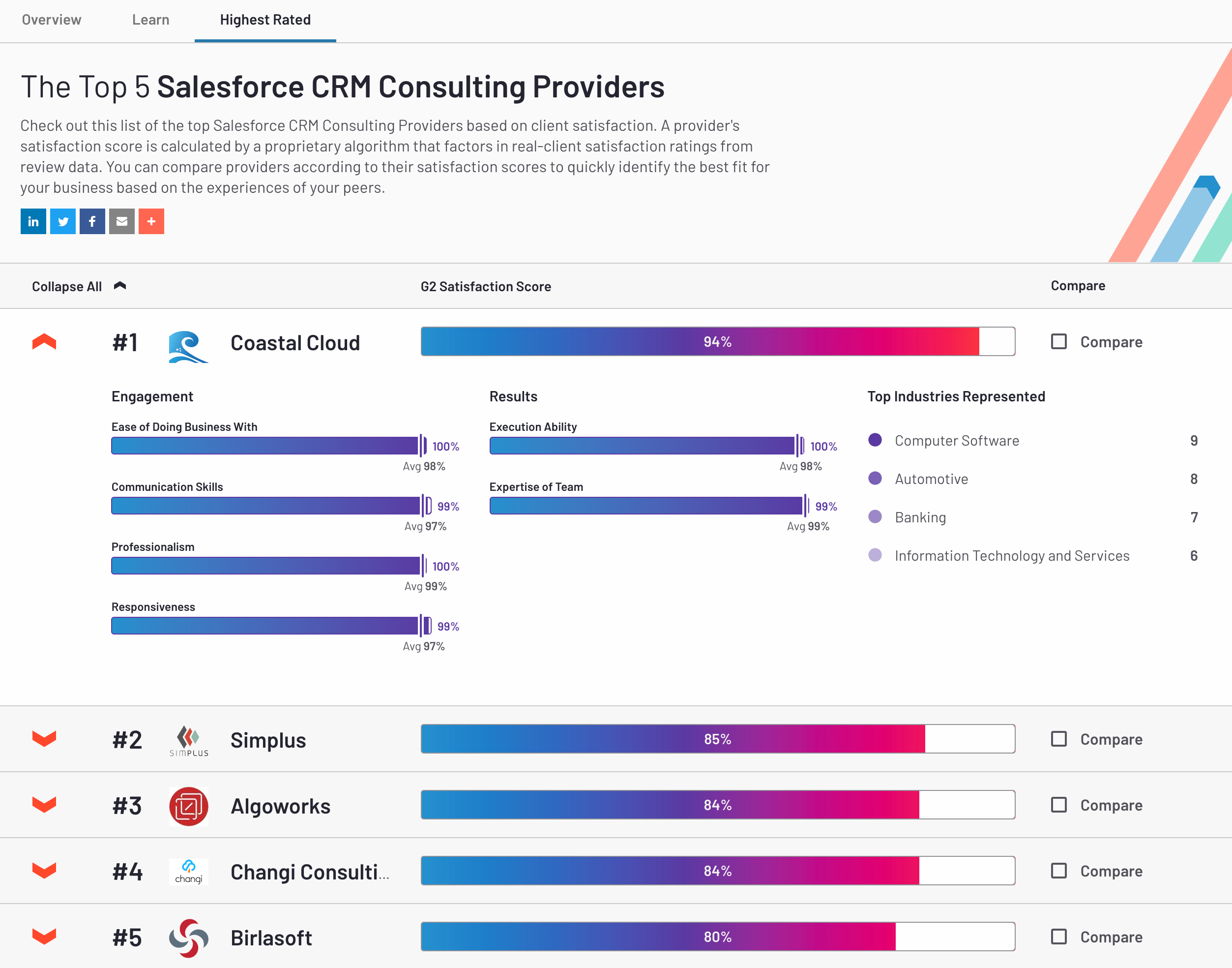 In addition to the algorithm update, we've also updated the visual on the category pages to focus on satisfaction (see above), and we're also going to be creating our FIRST EVER Services reports! As a reminder: The last day to get reviews in for this round of reports is May 29th, 2019. Once you have those reviews, don't forget to respond!
Integration Hub Integrations
Since the last time we talked, we've added FIVE partners to our Integration Hub: Clearbit, LeanData, PathFactory, GetAccept, and DealHub! Clearbit and LeanData are integrations that work with our Buyer Intent. PathFactory, GetAccept, and DealHub let you use the G2 content you know and love in the tools your team is already using. Check out the links for each to learn more!
The G2 + Clearbit integration helps you accelerate pipeline and close deals faster than ever before by showcasing suggested contacts at companies actively researching on G2, allowing you to hone in on the right contacts at the right accounts, all within your G2 admin portal.
The G2 Connector App + LeanData integration automates and improves the accuracy of account matches by as much as 83%. The integration auto-verifies if any company names shown in your Buyer Intent match an existing account in Salesforce — even if the spelling or name isn't exactly the same — enabling you to de-dupe and engage the right accounts at the perfect time.
With PathFactory + G2, you can present reviews right alongside your own content, validating your marketing claims. As buyers view reviews from G2 in PathFactory Content Tracks, you can understand exactly when that content plays a role in the purchasing process, how much time your buyers spend consuming that content, and how much G2 content contributes to pipeline and revenue.
G2 + GetAccept allows your reps to share the reviews you've worked so hard to collect to help close deals already in the funnel. Infuse third party dynamic content into all touchpoints and track which deals close and when G2 content is included to see measurable ROI.
G2 + DealHub.io allows you to bring together the collateral and context needed to accelerate the deal review process with a personalized Dealroom. Add G2 reviews, reference pages, and reports to your DealHub to give customers and prospects access to G2 content proven to reinforce buying decisions.
Buyer Intent for Licensed Content
With G2 Buyer Intent, you're able to see who's visiting your profile, competitor pages, category pages, sponsored content, and more. We've now added another thing you can track: visits to licensed content!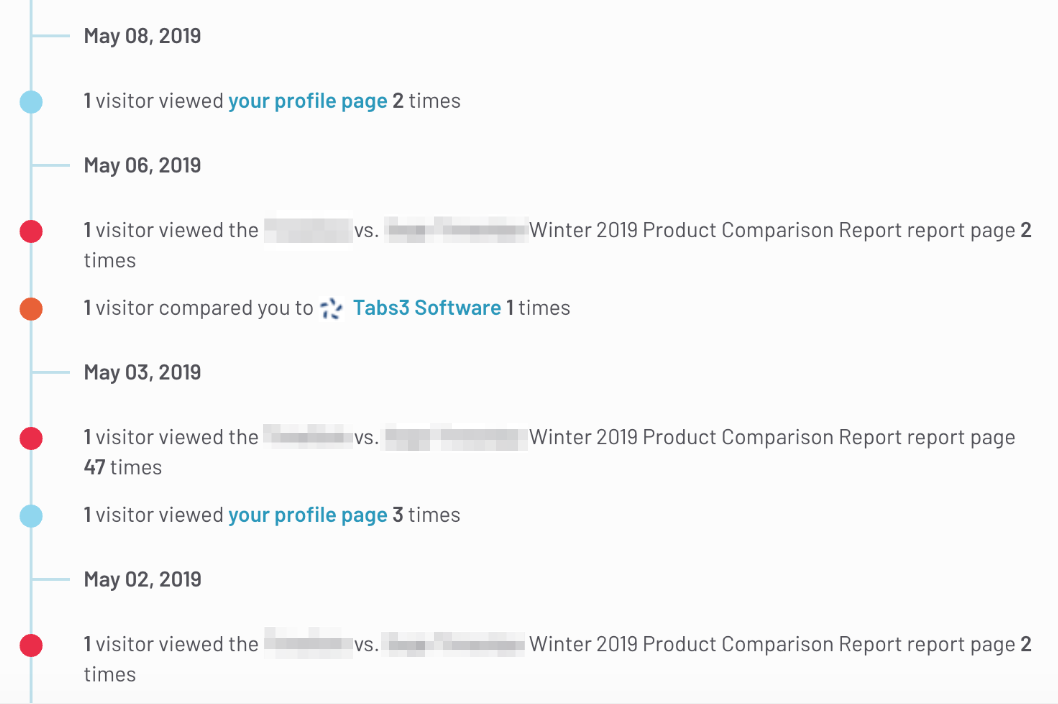 With this newest update, if you leave your G2 content ungated, you're still able to get insights on the companies viewing your content. If you do gate your G2 content, you'll be able to uncover the company name of accounts who fill out your forms anonymously. To see report visits, click into the company timeline view in the Buyer Intent section and look for the pink dots.
Product Q&A
We've updated how people can ask or answer questions on G2.com. Previously, questions were 1:1 -- meaning a person could ask a question and you could respond. While that was great, we wanted to build a community and make things more interactive, so we've moved from an FAQ setup to a Q&A setup. This allows your users and brand advocates to help answer questions as well. This is a great opportunity for your customers to show off their expertise in using your solution, so encourage them to participate!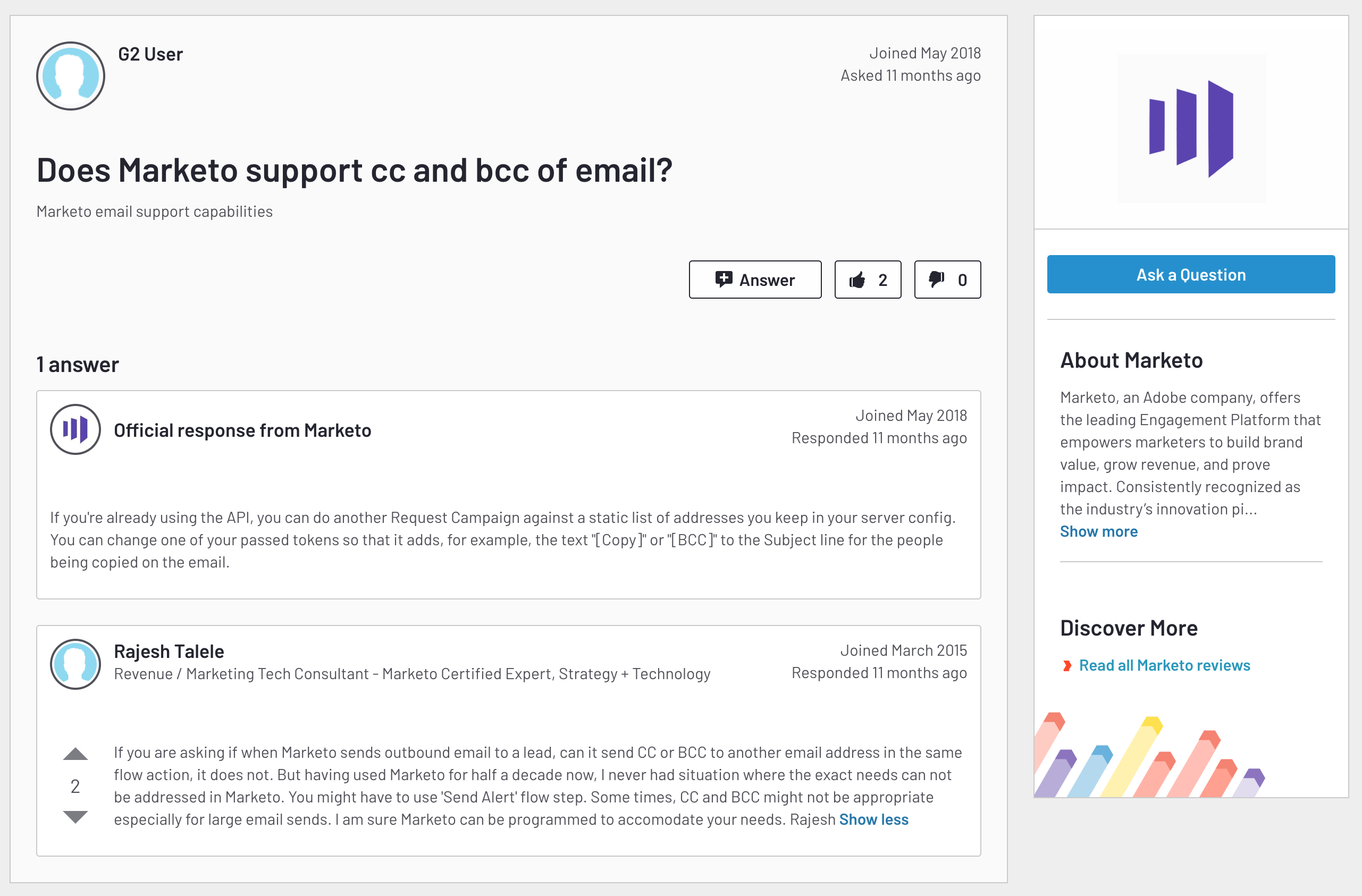 Just like Game of Thrones, this blog post is now finished 😢. But fear not: The watch has not ended! We'll be back soon to fill you in on the biggest updates we think you should be aware of. If you have questions about any of our updates or just need to get your feelings out about the end of Game of Thrones, my LinkedIn and Twitter are linked in my bio below.
Until next time!