August marks the start of G2's second half, which is always an exciting time packed with a ton of new launches, products, and features we've been working hard on throughout the first half of the year. So while we celebrate the end of a great half and the start of what's to come, check out the top updates we think you'll love:
Refreshed Product Profile Pages

Product profiles on G2 have been given an update to make the user experience even better for your prospects and customers! You may have seen a preview on a few select beta profiles over the past few months, but we're excited to announce new profiles are now live for everybody! (PS - you can join our beta group to test new features here!) Check out the new, streamlined look: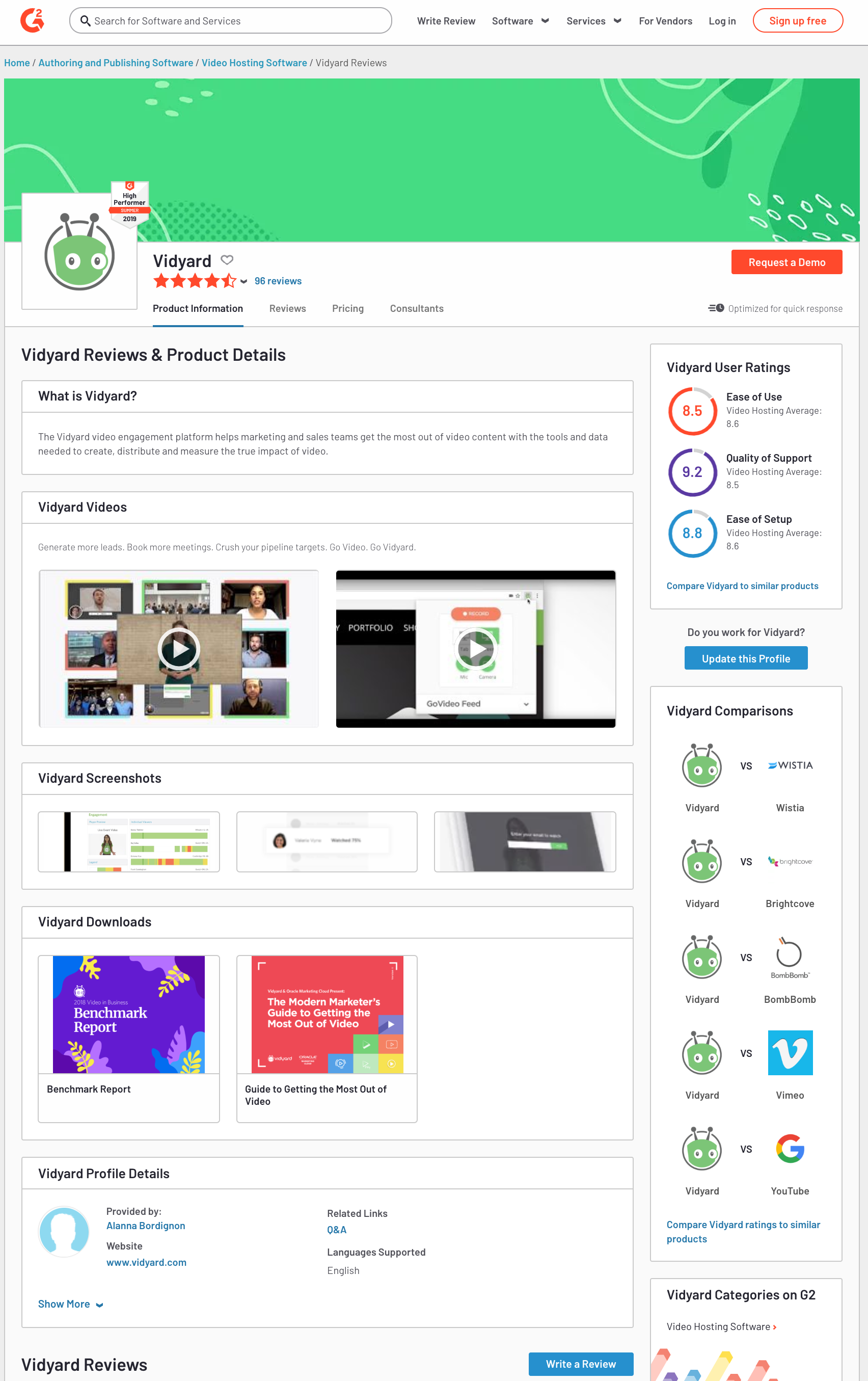 Here are some of the coolest updates and changes:
Download Preview: Your Downloads (the whitepapers, case studies, e-books, etc. that you added to your page) now shows a preview image of the first page of the document to give prospects a little tease of what the download is, and to entice more visitors to download your content!
Video Banners: You heard me right - you can now make your banner interactive by adding videos to your banner image! See it in action on our G2.com profile.
Review Sorting: Your customers are doing research constantly, and where they are (on the bus vs working from home) and how much time they have (30 seconds to skim a review vs 1-2 minutes to watch a full video) determines what kind of reviews they are looking to consume. With review sorting, your profile visitors can now sort your reviews by either text reviews or video reviews, to accommodate their preferences, and make it that much easier to learn about your product from peers just like them.

And with an updated experience for buyers on product profiles comes...
...an updated admin experience for you!
Introducing: my.G2

With my.G2, every G2 admin will have access to the right data, tools, and easy-to-understand instructions right at their fingertips for a truly seamless user experience. We've made my.G2.a place you want to be -- and log into -- all the time.
What are the highlights?
The Interface: The portal itself has a fresh, fun new look with an easy-to-navigate sidebar for you to find exactly what you want to look at.
Guides: We've added descriptions, explainer side rails, and section overview pages to make sure you understand what everything is and how to get the most out of your G2.
Sales Access: In addition to the standard admin access, we've added different permission levels to the admin portal. Now, you can allow sales to access the data they need, while locking down the account information they shouldn't touch.
Competitor Analytics: You've been able to access analytics for your own profile for quite a while, but with this new update, you'll be able to see how your traffic, reviews, and leads compare to your competitors' to measure your performance.
Category Page Updates

In the spirit of updating the look and experience, we're updating the layout for all category pages moving forward: the grid is moving from the top of the page to the middle of the page. 😱 Why? 1) To increase interaction with product profiles when buyers visit the category page, and 2) Moving it down the page allows us to make it bigger and, therefore, much easier to see (especially for those crowded categories like CRM).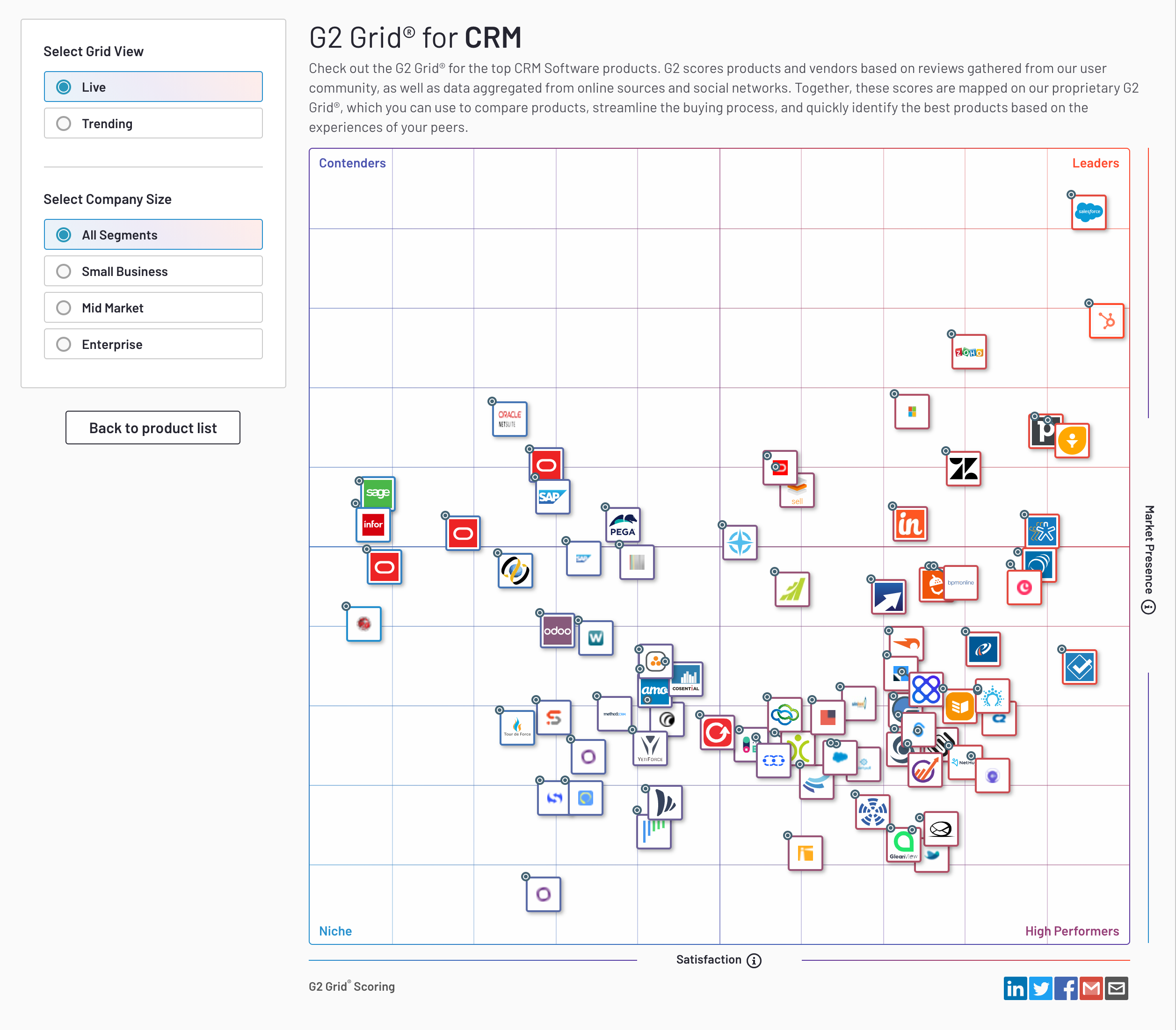 This is great news for you! Visitors are more likely to visit and interact with your profile, plus those G2 Reports you've licensed now have even more value.
Location Sorting for Reviews

As you've hopefully heard, G2's gone global! With offices in Chicago, San Francisco, and now Bangalore and London, we're working to bring a personalized experience to everyone that visits G2.com. As a first step towards that global personalization, we've added a new functionality to review sorting: the ability to sort by location.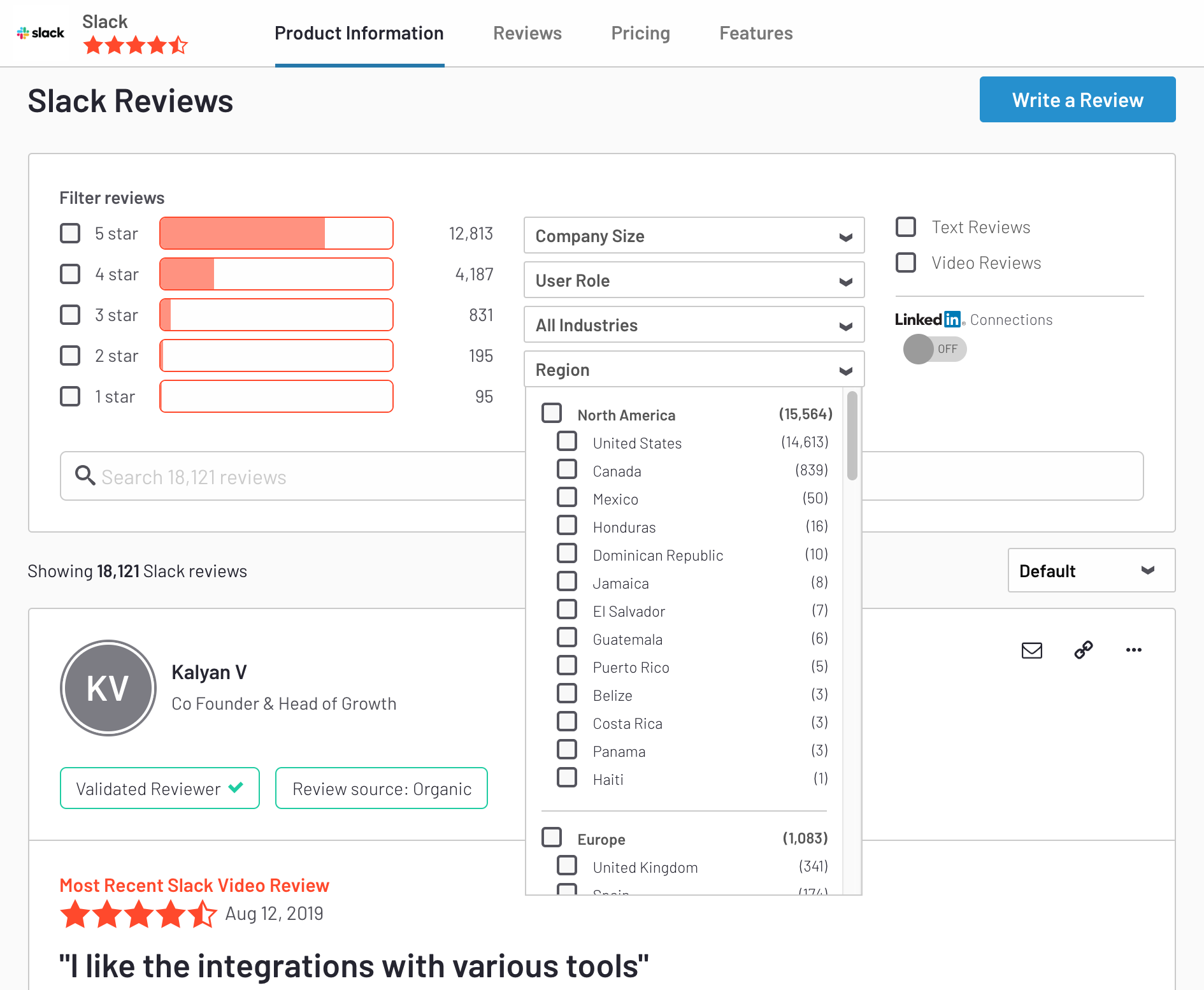 While we hope that our reviews are applicable to everyone, we know that sometimes perspective from a little closer to home can make a big difference. There are a couple of location based filters that you can see when you click 'Region': if we have enough reviews, we'll be able to narrow down to, and display, the reviews from a specific country; if not, you'll be able to see the general region. So the more reviews you can get from your customers all around the world, the more potential prospects can see how your tool works for people just like them.
--------
Thus concludes what I would call our biggest product roundup blog to-date. These are some of the biggest updates in my four years of working at G2 and I'm so excited for you to see them! If you have any questions about anything here, feel free to chat with us or connect with me on Twitter or LinkedIn (linked below).